Download page First connection to Ellipse Micro.
First connection to Ellipse Micro
This tutorial will show you what to expect on receiving Ellipse Micro from SBG systems, where to find available software and manuals, and how to perform the initial connections.
Downloading the Software
Please download first the latest Inertial SDK.
A Unix SDK is available containing software development libraries and documentation only.
Install the Inertial SDK (Windows)
To install the Inertial SDK, execute the downloaded file and a wizard will guide you through steps.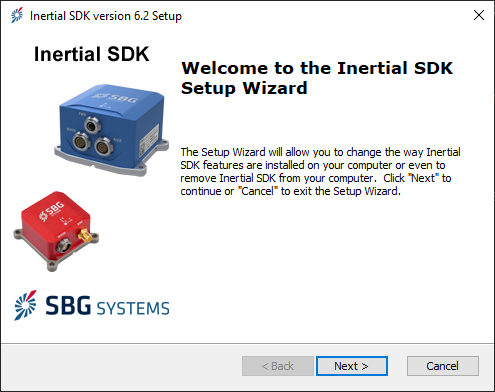 The Wizard informs you when the installation is completed, and gives you the choice to launch directly the sbgCenter software.
Documentation and Resources
This center provides access to all the documentation you might need during your product evaluation and integration:
You can find the documentation and resources for Ellipse such as hardware manual, mechanical drawings in the Documentations & resources section.
On this link you will find the Operating Handbooks and external aiding integration guides.
You can also find the Firmware manual and sbgECom, as well as all Firmware releases and change notes.
Hardware Connection
The pictures below show how to connect the sensor and accessories to the development kit board.
This USB cable (USB to serial adapter) provides 5 volts power and is connected to the serial Port A. It is used for the initial set-up and configuration.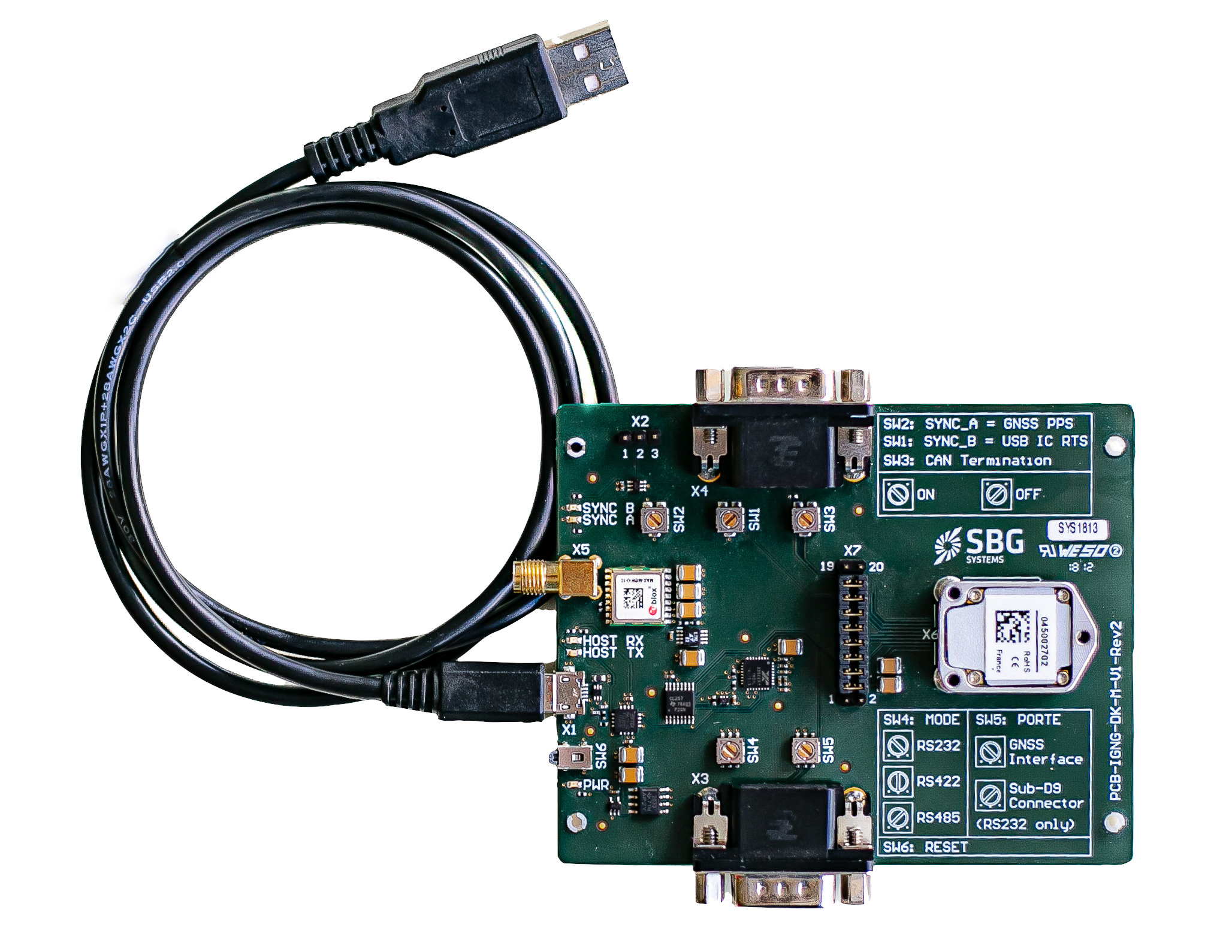 There are configuration switches on the development board shown below that can be configured for different behavior, enable or disable specific features: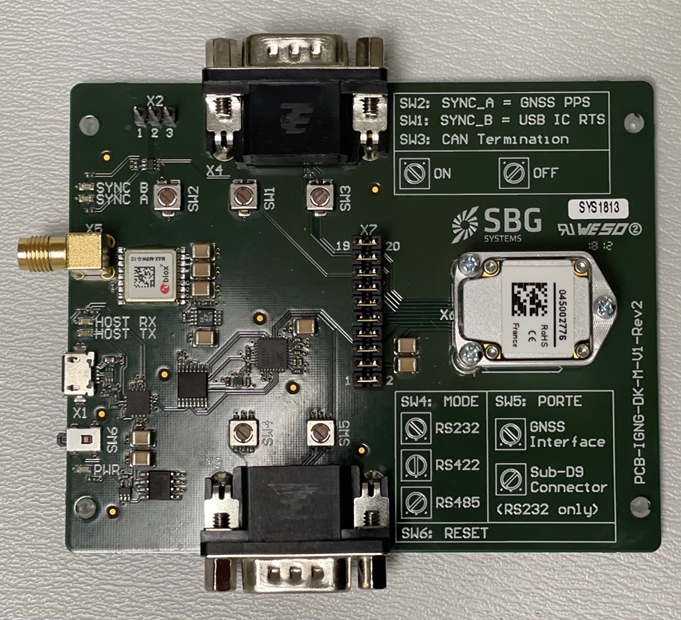 Set them to the desired configuration. The How To Article Communicate with the Ellipse Micro, using the development board will guide you through switches configuration.
sbgCenter
The Configuration using sbgCenter manual will guide you through detailed steps to configure an Ellipse using this tool.
Opening sbgCenter
Double-click the sbgCenter icon on your desktop

.
Click on the icon

. A window will appear to list the attached device. Click on the Refresh button.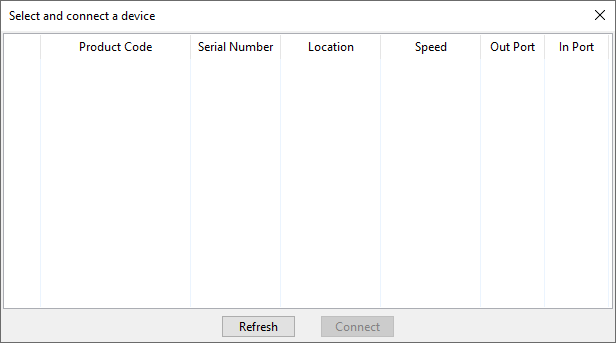 Click on the Refresh button.
If this is the first time that you connect an Ellipse to your computer, the window below will appear, asking you to change the FTDI USB serial converter configuration. Click "Yes Please" to ensure proper operation and then click "Refresh" again to update the device list.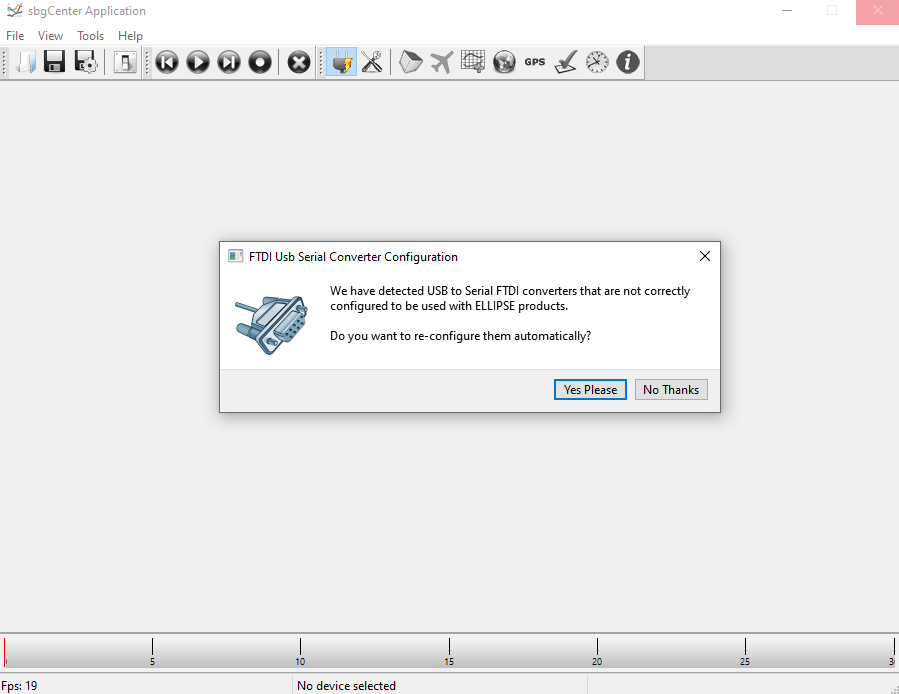 Your Ellipse should be listed now on the available devices. Click the "Connect" button to start using the sensor.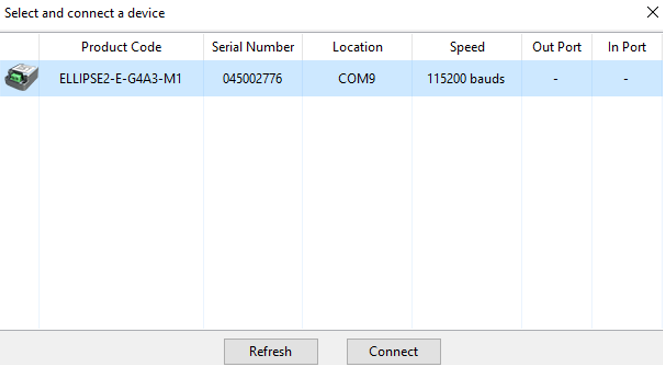 Configuration Page
You can now navigate through each setting page by using the tabs on the left. In order to configure, click on the toolbox on top of the interface to open the configuration window.
A default factory setup is configured, we advise you follow the menu from top to bottom to configure your device for your application (visit the Operating Handbooks section to find recommended configuration)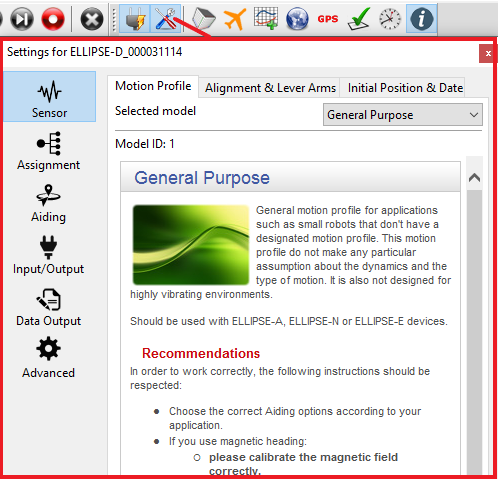 Display
The sbgCenter provides a wide range of displays to visualize your sensor data such as 3D Cube or Cockpit view for orientation display, 2D Map, Time series graphs, GNSS data, Device status, UTC Time & data, and more.