Download page Recommended accessories.
Recommended accessories
This page presents all accessories that are compatible with Apogee series, in particular, all GNSS antennas.
GNSS antennas
TW7972 | Triple Band Antenna with L-band
These high performance antennas have been especially chosen for their excellent performance/size compromise.
The TW7972 provides a multi-constellation tracking, featuring GPS L1/L2/L5, GLONASS G1/G2/G3, BEIDOU B1/B2/B2a, GALILEO E1/E5a/E5b, L-Band correction, as well as SBAS (WAAS/EGNOS/MSAS) signals tracking.
Performance specifications
Parameter
Specification
Architecture

Dual band, orthogonal feeds combined in a hybrid combiner, wideband LNA, band-split for narrow filtering.

Immunity to LTW and other cellular signals.

LNA Gain

32dB typical

Noise figure
2.5dB typ. at 25°C
VSWR (at LNA output)
< 1.5:1 typ.
Power consumption
24 mA typ.

Antenna gain

(100mm ground plane)

GPS L1, L2: 4.0 dBic
GLONASS G2: 2.5 dBic

GLONASS G1, Galileo E1: 4 dBic

GLONASS G3, Galileo E5b: 1 dBic
GPS L5, Galileo E5a: -1.5dBic

Dimensions

Diameter: 69mm

Height: 22mm

Connector

SMA female

Weight
180 grams
Environmental

Operating temp.: -40 to +85°C

IP Rating: IP-67 housing

Vibration: MIL-STD-810-D

Shock: 50 g (vertical), 30 g (other)
A 100mm ground plane is highly recommended for these antennas.
Mechanical drawing
VSP6037L | Verostar Survey Grade Antenna
The VSP6037L is a survey grade antenna, capable of tracking all signals in view, and featuring maximal performance when centimeter level precision matters.
This antenna features a tight phase center variation and can be mounted on any standard survey mount with its 5/8" threaded hole.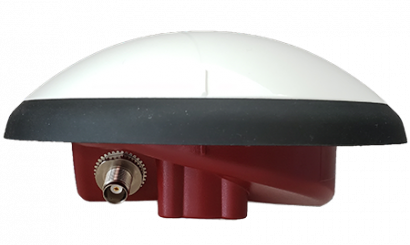 Performance specifications
Parameter

Specification

Architecture

Wide-band spherical antenna element, with a robust pre-filter and high-IP3 LNA architecture.

LNA Gain

37dB typical

Noise figure

1.8dB typ. at 25°C

VSWR (at LNA output)

< 1.5:1 typ. , 1.8:1 max

Power consumption

50 mA typ.

Antenna gain

GPS

L1, L5 4.0 dBic
L2 4.5 dBic

GLONASS

G1, G3: 4 dBic
G2: 4.5 dBic

GALILEO

E1, E5a, E6: 4 dBic
E5b: 4.5 dBic

BEIDOU

B1, B2a, B3: 4 dBic
B2: 4.5 dBic

Dimensions

Diameter: 170mm

Height: 74.9mm

Connector

TNC female

Weight

180 grams

Environmental

Operating temp.: -40 to +85°C

Storage temp.: -55 to +95°C
Vibrations: MIL-STD-810E - Test method 514.5
Shocks and drop: MIL-STD-810G - Test method 516.6
Salt fog: MIL-STD-810G - Test method 509.6
Low pressure: MIL-STD-810F - Test method 500.5

IP Rating: IP-69K
Mechanical drawing