Download page Factory Calibration and Tests.
Factory Calibration and Tests
In order to provide best quality sensors, SBG Systems has developed a unique calibration and test procedures.
Highly automated, these procedures are scalable and avoid all the common human errors and make sure that every sensor delivered meets the specifications.
Facility
Our facility is equipped with multi-axes rotary tables and temperature chambers, capable of simulating all the environments that your sensor could meet during operation. These tools are powered by an advanvced calibration software that automates all the process, including environmental and motion simulation, calibration parameters computation, sensor validation, and report generation.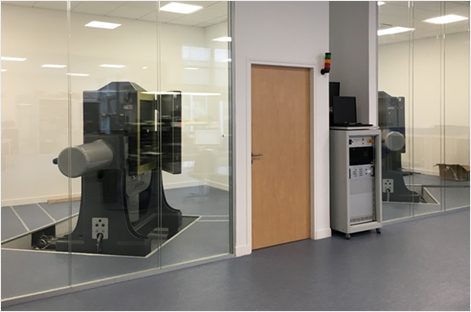 Sensor calibration
When dealing with sensors error parameters, we consider that a good calibration is always better and more reliable than on-line sensor estimation. We calibrate and test each product in our factory in order to provide efficient and defect free units.
The calibration procedure provides:
Functional and accuracy test of all sensors, and subsystems over full temperature range.
Gain and bias compensation over full temperature range for accelerometers and gyroscopes,
Non linearity compensation for accelerometers and gyroscopes over full measurement range,
Cross-axis and misalignment effects compensation for accelerometers and gyroscopes,
Gyro-G effect compensation for gyroscopes.
A calibration (and following tests) sequence typically takes 1 to 3 days in order to achieve all the tasks necessary. This time enables optimal performance of your sensor.
Sensor validation
Once the calibration is performed, all sensors follow a validation step, where the actual calibration parameters are burned into the sensor's non volatile memory. Real motion is applied on the sensor and measurements are compared to the reference to ensure that the sensor behavior is perfectly consistent with specifications.
A report automatically generated ensures that only compliant units are delivered.
Following extracts show typical examples of tests performed and how results are presented on the validation report.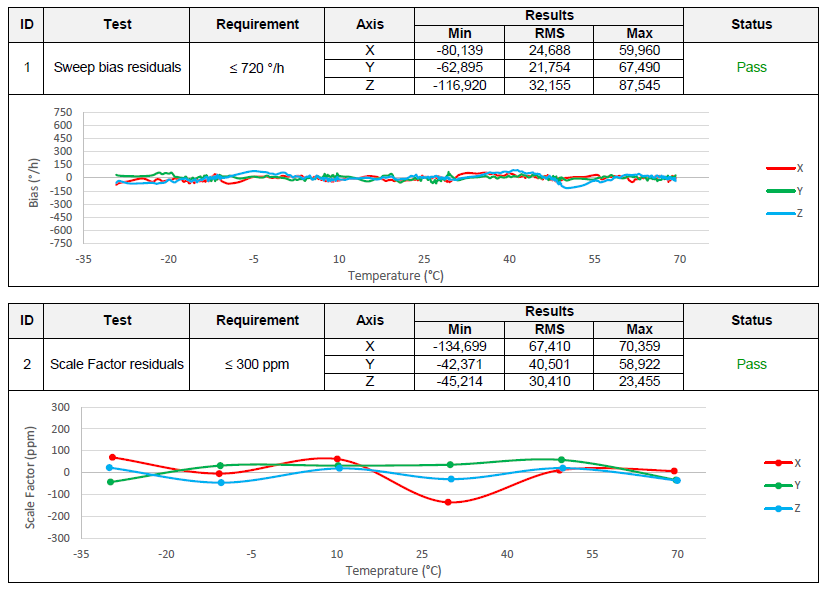 Calibration validity
The validation report guarantees full product specifications for three years following the IMU calibration date. If your quality policy requests it, SBG Systems can offer a sensor check & calibration service once this period has expired.
However, SBG Systems has carefully qualified the IMU & INS drift over time, and selected only sensors with an outstanding stability over time. If used under normal operating conditions, the product should meet its specifications over life time and should not necessitate regular calibrations.